The ZED SENSATIONS Team is committed to helping our customers with product questions (within reasonable limitations).
Please read the POLICIES before reading further concerning support.
Your responsibility as a client before contacting any of the below:
For genuine help continue to read further so that you can get the proper assistance.
Sugarfairy2 Resident Creator and Owner
ShamanofSeduction Resident Co-owner of the sim, Zed Sensations Affiliate Manager (this means he treats the land and building problems, you may leave him a message but he cannot solve your problems, he will only copy and paste your message directly to Sugarfairy2 who is the creator)

TELEPORTERS GALORE TO GET YOU AROUND THE MEGA INWORLD STORE
DILEMMA!  "Oh I am lost, I cannot get myself around the store."
We have over 3000 products with which we supply secondlife users of many assortments, and we cannot make the store any smaller.  So we have come up with the best and only solution where there are TWO teleporters right at the landing point where you land to use to get you to the various departments.
There are signs within the store.
This is a 3D virtual world environment and the store has been designed for shopping and scenary.  That is what this virtual world is for.
Here are guides to what the teleporters are and where you will find some of them and how to work them
HOW TO USE THE FLOOR TELEPORTER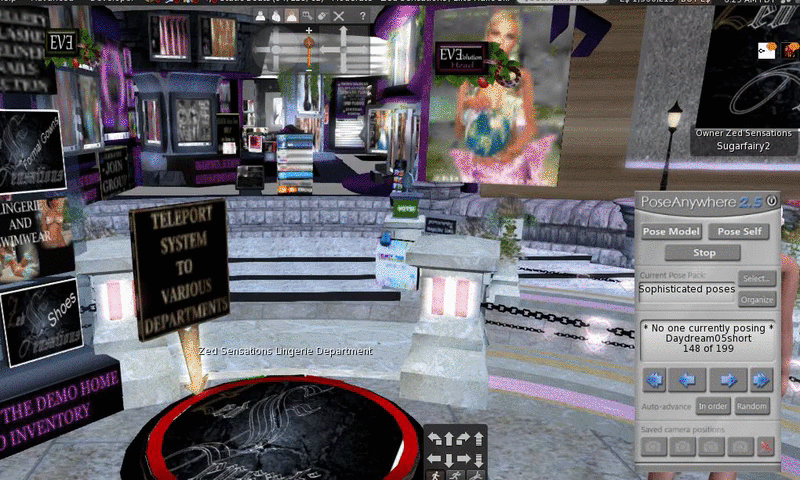 Teleporters around the store inworld to get you back and forth to the various sections
Signs on many of the staircases to give you a guide to where you are heading as you roam on foot around the store
Please remember to read over the policies TOS and other help pages before contacting us as we are not online full time as we are a real married couple and business partners.   We have our  health, family real life issues to attend to on the times that we are not online.  We will always get back to you as soon as possible and try to help you as best as we possibly can.
Concerning Exchanges, Fixes, Updates, Redeliveries, Materials Enabled info and Refunds
Zed Sensations do NOT support the story of :
"I bought the wrong colour in the marketplace nor in the vendors".  The Buyer cannot buy the wrong colour, nor can the Buyer get the wrong colour because the Buyer has to open the page with the colour The Buyer selected and PAY on that very page.
2.   My boyfriend bought me the wrong thing for my mesh body
3.  I bought this off the marketplace but I am just so lazy to tp inworld to try the demo.
If there is a real applier problem I will help you but I cannot and do not have the time to educate you all how to use your appliers and your avatar mesh body huds.  That is for you to go to the mesh body representatives.  I only support issues concerning my textures and work.  All products are tested before release, although sometimes sl lag or some issue can occur by accident.
UPDATES ARE MOSTLY FREE, depending on the products
FAILED DELIVERY AND PRODUCT UPDATES – Use the REDELIVERY TERMINAL – there is a redelivery terminal at the mainstore for any purchases made in the marketplace or from our vendors inworld.  If you have a redelivery issue do not hesitate to contact Sugarfairy2 Resident.
REDELIVERY TERMINAL 1 – CLOSE BY THE LANDING POINT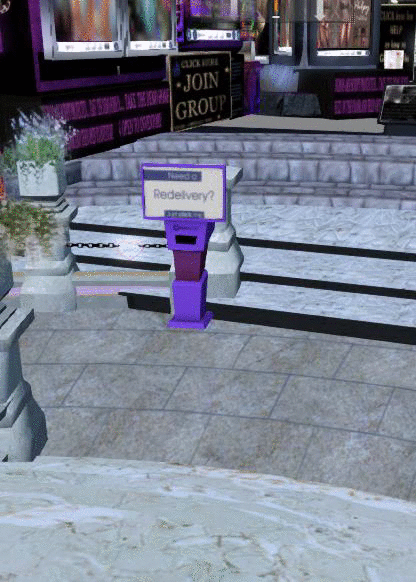 REDELIVERY TERMINAL 2 – WALK FURTHER INTO THE STORE AND BY THE RECEPTION DESK IS THE NEXT ONE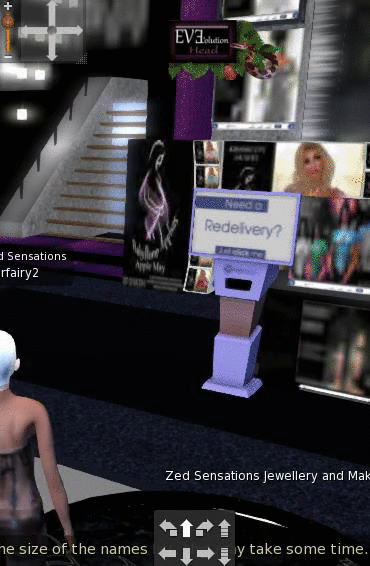 Materials Enabled prims/mesh objects can be disactivated by simply unticking these blocks as shown in the diagram below.  These are simply used more for those clothing on mesh bodies that have materials enabled appliers such as omega.:
If there is an error with the product we will do our best to correct it in a timely manner. Simply contact the Sugarfairy2 Resident with the following details for a guaranteed and swift response as soon as she is able to get online:
–  A NOTECARD ( IMS (instant messaging) get capped , She belongs to many groups and receives endless notices, so her viewer caps a lot of her notices and messages.  Unfortunately, not everything appears in her emailwith a detailed description of the problem at hand, a copy of the transaction of your online account which you will find in your TRANSACTION HISTORY.  
EXACT NAME OF THE PRODUCT AND COLOUR.  I will do my best to get back to you as soon as I possibly can.  If for some reason I do not answer you within 24 to 48 hours then keep resending the notecard because something could have happened.
I AM MISSING AN ARTICLE IN MY BAG
Ok, try cleaning your viewer cache, relog and try reopening your bag in a lag free area, and being patient and waiting for the items to load completely due to lag.
Rezz the bag on the floor and open to your inventory from there as some items can turn up no copy by accident or have to be no copy and will not load when holding the bag and opening it.  Then WHEN you have done this and have seen that there is really a missing item, grab that notecard, copy your transaction details of the sale(s) ONLY, exact name and colour of the missing item and send it to me asap.
Our items are sold as is and just because you purchased an item doesnt give you any rights to owning our textures or the uuids in the appliers to enable you to wear our clothing on your avatar and mesh body parts.  Our products are not adjusted nor changed due to the personal opinion of any customer, due to the varying ideals, wants and likes of every and each personality.  Customers who feel they have special wants and needs, must utilize the CUSTOM MADE SERVICES.
Do not prepay for anything until you have actually contacted Sugarfairy2 Resident and made a formal agreement on the payments.  All pricing is made with her and not negotiable.