How to get the best out of materials enabled products
Make sure your LOD Factor is at 2.5 minimum (Firestorm viewer – quick preferences)
There are three types of mesh:
Mesh clothing is NOT applier clothing.  Applier clothing, are system layer clothing 
for secondlife avatars with appliers 
are boxes/huds coded to apply this painted clothing to your mesh body (like a tattoo) that you use.
Rigged mesh and fitmesh clothing are 3 dimensional physical object clothing
, so when you right click  on the object (clothing piece) you will get these options
.  As your mesh body is already an object
,  it is HIGHLY ADVISABLE to select Add and not wear when wanting to clothe each piece of clothing, so that pieces do not bounce off that are occupying the same attachment point on your avatar.
Attach To is an extra option for you to attach these items to other points on your mesh body to where it would be more suited to yourself so that it doesnt obstruct other points, such as jewellery or other accessories.  Do not worry, rigged and fitted mesh clothing are rigged to the bones, so no matter where the attachment point, you will still be able to dress the item.  The attachment points are not unlimited, so be careful how many pieces you have at one attachment point.  Distribute them fairly.
Read More to find out the different types of mesh clothing available in secondlife
Unrigged mesh – Rigged mesh (made for the sl avater but as mesh bodies are fitmesh, you can use alphas and reshaping to try to squeeze into some of them)  – Fitmesh (has to be made for the specific virtual life body, this is not something that is for every body.  Example:  Fitmesh for secondlife body, Fitmesh for Eve mesh body Pulpy, Fitmesh for Eve mesh body Slim, Fitmesh for Slink Physique, Fitmesh for Slink Hourglass, etc
IMPORTANT!!
1. Remember to save a copy of your initial shape first.
2. When two objects (sculpted
, mesh 
or alpha
) occupy the same space on your avatar, just wear the first one and ADD the rest.  If you try to wear everything, certain items start disappearing.
So remember  to ADD and not Wear each mesh clothing piece to make sure they stay on your body.  Below is another reminder picture of how to locate this option.

UNRIGGED MESH – this mesh is not attached to the skeleton bone system of the secondlife avatar.  It is simple another object with a different material system.  If modifiable or scripted, it can be stretched to size.
RIGGED MESH CLOTHING/ATTACHMENTS – These are attached to the skeleton bone system but not the fitted mesh skeleton bones.  These are NOT resizable and you cannot change anything about it, unless scripted and a hud offered to texture change.  Rigged mesh comes in 5 standard sizes.  You will be required to select one of the sizes that fit better to your shape (remember to wear the alpha that comes provided if you are using the secondlife avatar, or use the mesh body hud that comes provided with your mesh body – using the Alpha tab and clicking the alpha parts away that are available.   Always try a demo if you are not sure. When there is a lag on a sim your parts will tend to dangle in places until its time to go into their right places
Here I am using the secondlife avatar body to show you what to do.
 Wear the alpha (if you have more than one alpha, then WEAR the first and then ADD the rest)
Now add the rigged mesh size closet to your body shape.  You will notice on this picture that my part of my breast is still sticking through the mesh.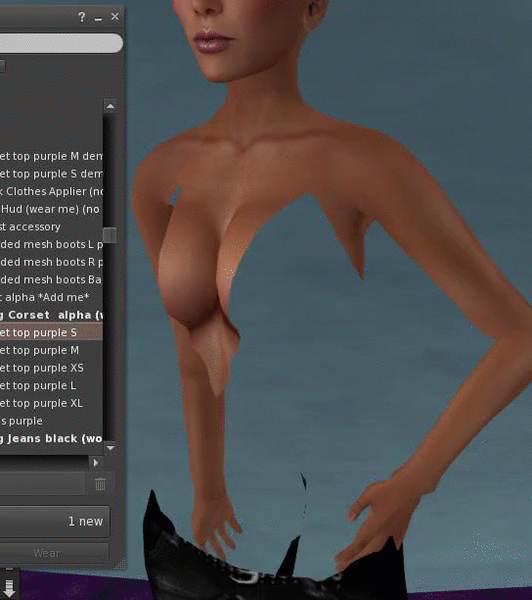 This is where I now have to edit my shape in Edit appearance mode and adjust my breasts to get the perfected look.  Take into consideration that you require a shape that is MODIFY to be able to make these adjustments, even where it concerns a fitmesh body.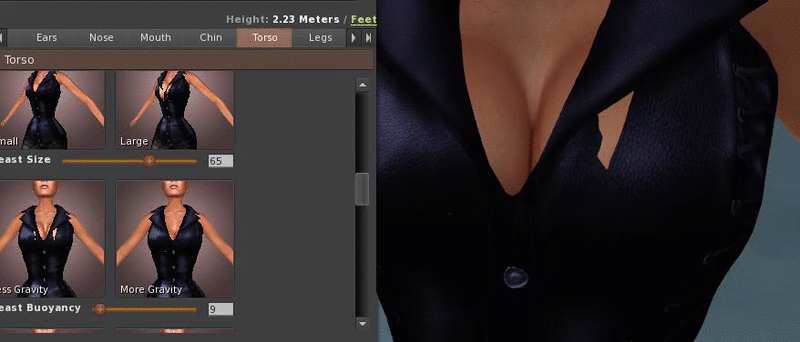 FITMESH/FITTED MESH for secondlife avatar:  These are attached to the fitted mesh skeleton bone system.  This type of mesh is more flexible and can fit to your body without you making hardly any adjustments, most likely none, depending on expansion allowance of the weighting the mesh was able to be given.
The  Alphas will most likely need to be utilised whether given by the clothing creator for the sl avatar or the pre made alphas made on your mesh body huds by the mesh body creator. When there is a lag on a sim your parts will tend to dangle in places until its time to go into their right places.
FITTED MESH CLOTHING FOR Third Party MESH BODIES:  There are only four third party mesh developing projects that I OFFICIALLY make for :
Eve Pulpy and Slim
Adam
Belleza Isis and Freya
Slink Physique and Hourglass
Slink Physique male
Signature mesh body
Tonic Curvy and Fine
Ebody
 TMP (received the kit on the 3/08/2016 – in the process of updating
 Maitreya (received the kit on the 05/05/2016 – in the process of updating
These have the correct weights and are measured by the body kits for 3d meshing as they have been given to us.  The other is for the secondlife avatar.
I will show now the difference and why each fitmesh is not universal but specific for the correct mesh bodies.  I still consider this the best solution for the person who finds it a tremendous excercise to adjust their body where rigged mesh is concerned, even though it is a lot of work to make.
For example:  Eve Slim fitmesh with Eve Slim mesh body
But also remember there are fitmesh models made for a specific body but you will still require to alpha out at times, depending on the shape and design of the fitmesh and the look that is trying to be portrayed when being worn.  It does not mean the fitmesh is bad, it just means there is only so much a much a mesh body can support (its not flexible like flesh and blood) and so the alphas come in as a final resort.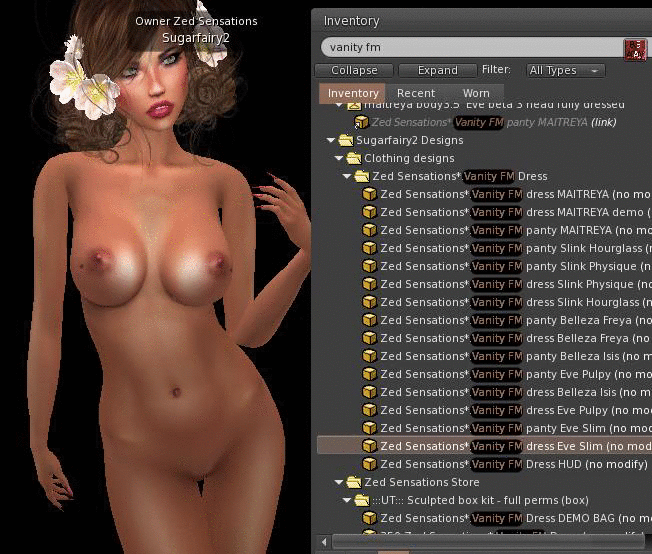 Now look what happens when you wear Eve fitmesh on the Belleza Isis mesh body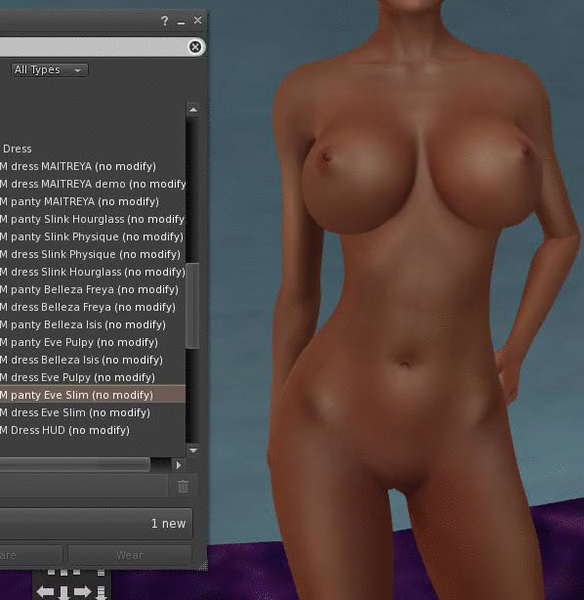 But if I wear the Belleza Isis fitmesh that I rigged and weighted for the Belleza Isis mesh body, we now get a much better result. Therefore, wear the right brand fitmesh with the right brand mesh body.  You can attempt to squeeze into some and you can escape with some good fits BUT….. it still doesnt fit the same when the stretching of the body begins, that is where the devil of fitmesh is.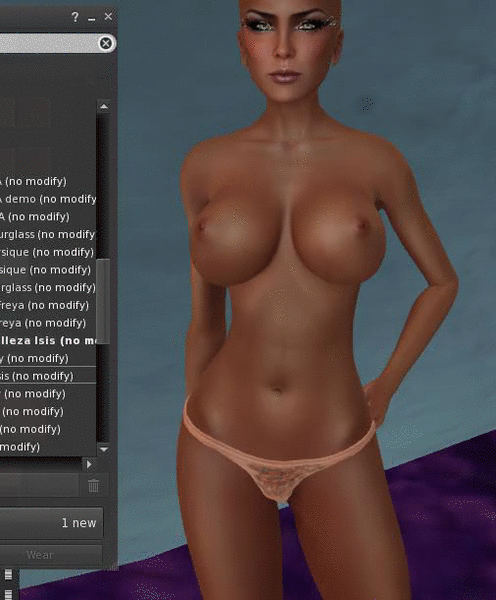 Belleza mesh body has 3 breast position options on the hud.  So depending on what breast choice we chose for our clothing design for Belleza mesh body, you as the wearer must click those options after you have put on the fitmesh dress or top and set your breasts to fit.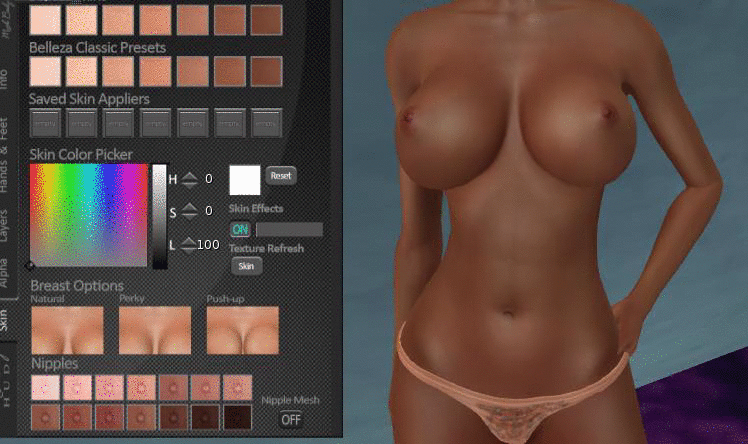 The stretch possibilities of fitting enabling you to wear official fitmesh products with your shape with or without fat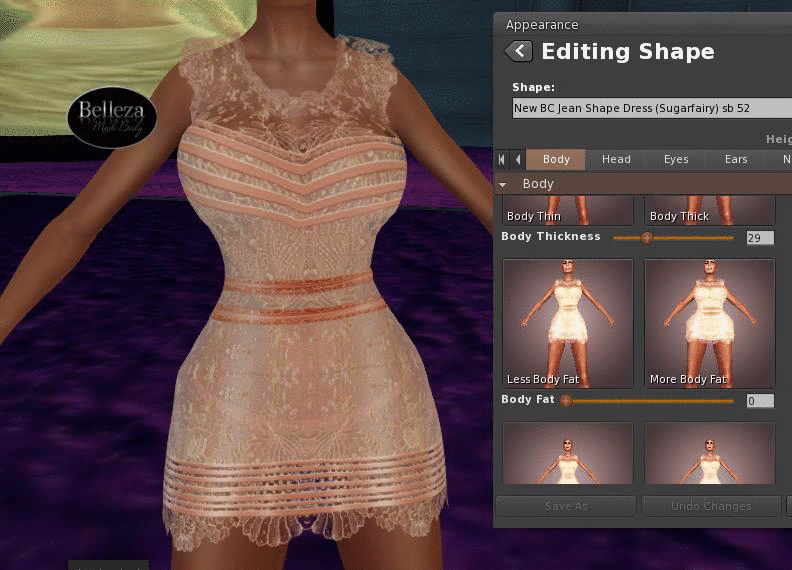 DISCLAIMER: All other mesh bodies are an attempt from my part so that my other clients can enjoy the designs as well. (If I do not include certain mesh products for the other mesh bodies that is because Zed Sensations cannot guarantee for a proper fit  because making mesh clothing requires the appropriate mesh weighting which is supplied by mesh developing project owners who make the mesh bodies)  Maitreya, Tmp (these are under the process of being updated) and other mesh bodies apart from the nine above are all eye measured and not exact weighting, so certain maitreya and tmp (the mesh project) users will be limited and be required to adjust their bodies if they wish to fit in the clothing.  Unfortunately Zed Sensations is limited by the mesh body creators and Zed Sensations can only help you with what they provide Zed Sensations.
QUESTION:  Will you sell your mesh clothing full perm?  ANSWER: No.  All my creations are exclusively for:
Zed Sensations (creator Sugarfairy2 Resident)
and
Sexy Dreams (creator MysticDreams0607 Resident)
1. CLOTHING –
A.  The mesh clothing fashion designer cannot make or provide alphas for any mesh body, these are pre made by the mesh body creators themselves.  Unless stated on the product, mesh clothing in general is designed with the SL basic body in mind. While some mesh outfits come with Appliers, it is very important you try on a Demo before purchasing to ensure the Mesh outfit you're trying on will fit with the Mesh Parts you are wearing.
2.  MESH BODIES – this is a body that you can reshape in edit shape to your happy needs and requirements.  Better quality for clothing texture layers.  Tiny avatars  are not really sl inworld supported by Linden Labs so there will be glitches.
B. Eve Mesh Body – A guide line on how to help you if your body is turning white
C. How to blend your neckline with your eve mesh body
C1. Eveolution Head
C2. Eve Mesh body
C3. Eve Adaptive Feet and how to debug
D. How to size a mesh head and fix your eyes with your fitted mesh body
E.  Slink Physique, hands, Visage, head and Feet Information  Read this, this should enlighten you about your body and your hud.
F. 1Why do my tattoos, sheer and lace appear smudged? Masking and Blending with the Eve Body concerning Sheer, lace and Tattoo applier layers
F2 Smudging and Blotchy textures with clothing, lingerie and tattoos on mesh bodies in SL
F3 Transparent background textures on mesh attachments / clothing worn with applier textures on fitted mesh bodies
J.  Avatar Rendering complexity