This a blog and hopefully some help to the Belleza mesh body users.
This sexy body is created and designed by Tricky Boucher (the owner and creator of Belleza skins and shapes)
This is also quite a nice  package which can be purchased inworld at the Belleza store for the value of 3995 lindens.
You get all 3 mesh bodies, Venus, Isis and Freya.  The huds that you need and a wardrobe hud (to save your applier clothing).  Venus was the first Belleza mesh body release, but they  updated it with two others Isis and Freya later.  The fitmesh creators that were chosen to design for Belleza, many only have the meshing files for Isis and Freya and not Venus.  We are still awaiting the Venus files but there has been no news to date.  So in my store, my appliers give for Venus, Isis and Freya, but I only make official fitmesh for Belleza Isis and Freya.
Designed specifically for its own fitmesh brand clothing and alphas that can accomodate some of the other rigged mesh clothing available in the secondlife market.  It has its own applier system – Belleza appliers
To know what i have concerning belleza, you need to look for these logos on my vendor boards
The skin, clothing, underwear and tattoo layers of the Belleza mesh bodies are Materials Enabled so you can use materials enabled appliers.
Belleza hands are fitmesh.  Belleza feet are not fitmesh.
Belleza is compatible with the following Mesh heads:
Catwa mesh heads
Lelutka mesh head  (clients heresay)
Logo Mesh Heads
Slink Visage
Other mesh heads you need to test their demos and try as I do not have every mesh head in the markets
The Belleza Mesh body is fitmesh, meaning you can reshape the any one of the 3 bodies in the edit shape mode.  But you must remember that you require a modifiable shape.  If you do not have one, you can get one FREE inworld at the mainstore of Zed Sensations.
When you first purchase the mesh body you want to get your skin organised, so we will start with that first.  So get to your Belleza body file in your inventory and open it and begin by
Wearing the Belleza – mesh body alpha
Wear the Belleza – Isis, Venus or Freya
Adjust your preferences in your viewer if you are seeing yourself white.  To activate Basic Shaders and Hardware Skinning: Go to Avatar > Preferences > Graphics > General Tab > Look under "Shaders" and make sure "Basic shaders" is checked. Next look under "Avatar Rendering" and make sure "Hardware skinning" is checked.
Advise your friends to set their settings on their viewers to these minimum secondlife requirements, so that they do not have problems seeing you.  Low is not acceptable.
You must have the Official Second Life Viewer or the latest version of Third Party Viewers (ex. Firestorm). You also need to adjust your graphic settings to activate Basic Shaders and Hardware Skinning. (as shown above)
To update your Official Second Life Viewer: http://secondlife.com/support/downloads/To view the approved listed of Third Party Viewers: http://wiki.secondlife.com/wiki/Third_Party_Viewer_Directory
Optimal Settings
For optimal viewing of your Belleza – Mesh Body we also recommend advanced graphic settings so you can view materials and experience the body in windlight.
We recommend using windlight to enhance your experience with the body. For more information on how to adjust windlight and to download some common Sky Presets, please visit http://wiki.secondlife.com/wiki/Windlight
Wear the Belleza Mesh body Hud and click on the SKIN TAB, so that you see this –
This section is for changing your skin tone, saving skin appliers, adjusting skin tone, selecting breast shape, choosing nipple mesh color and turning on/off nipple mesh
Here is where you choose your skin tones and in the 3rd row is where you can save your skin appliers.  I cannot confirm if this saves Omega skin appliers as I have never tried it.
You can tone your skin using the Skin colour picker to try to sneak match with skins you might already have but I always strongly recommend to please use a skin that is the same brand from the same creator using the appropriate appliers for the best skin matching.
Belleza Mesh body is Omega friendly, so it would be advisable to activate your Mesh body with the , this can be purchased at our inworld Zed Sensations Mainstore.  This will open doors to third party skins and clothing, widening your options a bit more.
 Omega Belleza Help – on how to install and use the Omega Belleza kit.  It would be advisable to join the Omega Support group for any other help or questions.
 You have the 3 Breast options which are useful but painful because many forget this feature.  Normal, Perky and Push up.  Nice when you are using applier clothing.  But when wearing Belleza fitmesh or rigged mesh, you need to remember to change the breast positions to obtain the fit.  I design my Belleza fitmesh with one of the 3 breast positions, depending on the outfit and the look I wish the outfit to have.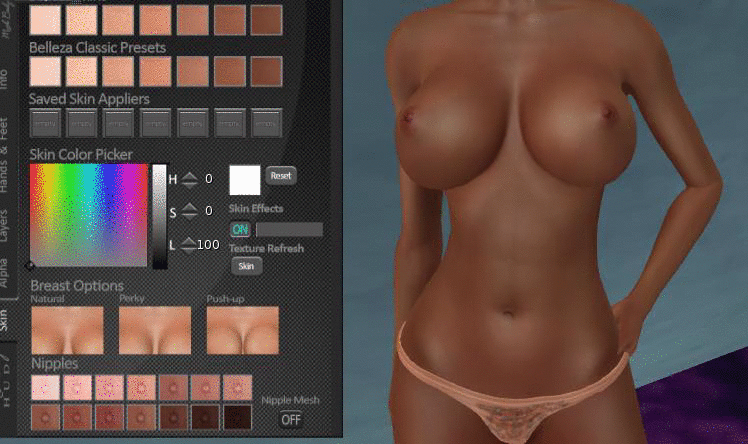 Now lastly on this skin tab, you have the nipple options, which click to put on the mesh nipples and select the colour you wish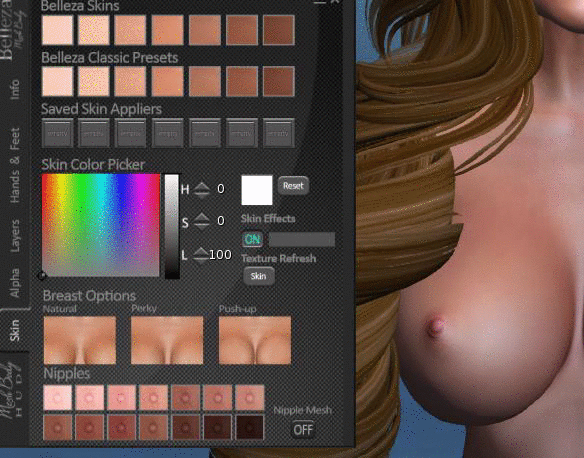 Continue reading Belleza Mesh body Blog and Help →