Copyright ©2010-2017 Zed Sensations. All rights reserved.
A Virtual Designer who believes that living life as YOURSELF is the best way to live any world. If you cannot be free then you are not living your Life right. You cannot live to make people love or like you, they must learn to love and like you (accept) for YOU as you must do (accept) for them. Being subdued is ridiculous.
"As a naturally born artist – art is not wings that can be clipped. An artist is the true magic because they are uncontrollable." " To me Fashion is a reflection of what you feel in your innerself (soul). It is an expression of YOU, poetically in its pure essense, it is not something dictated by fashion industries trying to enforce their clothes, feelings or colours upon you. Each individual goes through their own personal emotional experiences in different phases of their lives. Be YOU and not what others want you to be, that is the TRUE expression of fashion or art. You are the Elite always" Zorina Brandao.
We are a family business.  We strive to product the best quality that we are able for our clients.
We are the Official Mesh Creators/Designers for the following virtual world and mesh body brands:
– Secondlife Classic Avatar
– Eve Pulpy and Slim
Eve mesh heads
Adam mesh head and Body
– Slink Physique and Hourglass
– Slink Visage
– Belleza Freya and Isis
Catwa
Logo mesh heads (they use omega only)
Ebody
Petites
Micro Mesh (Eleven) bodies
NEW!! Finally MAITREYA ( in the works of updating so please have patience)
Signature mesh body
Tonic Curvy and Fine
TMP male and female
Visit our Mer Cove to leisure and enjoy yourself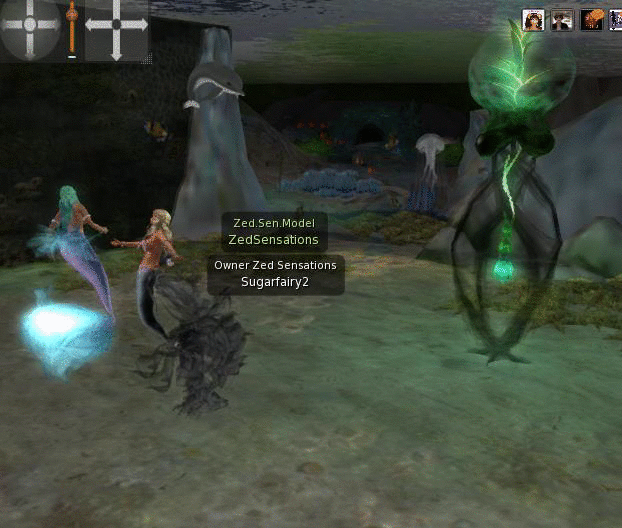 All our products are copyrighted and our textures unique.
SLURL TO SECONDLIFE INWORLD STORE
We specialise in:
1. men and womens clothing.
2. Skins
3. Hairs
Zed Sensations reserves the right to its own creativity.  All products are sold as is.
Sugarfairy2's mesh clothing concept is to try to give the client as many mix and match possibilities from a woman's perspective as we like the appeal of dressing possibilities and creativity.  Not always can this concept be achieved due to different ways of designing but if we can, we do it.  She follows her own rules, her own ideal fashion ideas and logical thoughts of virtual fashion necessities and requirements for the secondlife user.
If you have a script problem for any reason concerning the appliers, just send me a notecard (because my viewer caps most of my Instant messages (IMS) and I will happily fix it. No one is perfect, mistakes happen, sl mishaps happen and you need to contact me to fix it. I will always get back to you as soon as i can.
We do not refund. We supply the necessary demos and our products are NO MODIFY , COPY, NO TRANSFER and (or) MODIFY (for certain body shapes that we supply with our skins, some unrigged mesh or sculpts that require such permissions to enable fitting, or on flexi skirts that require for better fitting), COPY, NO TRANSFER.  We will always help in the best possible way WE can.
Although we love our clients and try to provide the best we can in our products and service we cannot tolerate the following and so this must be made your routine on how to shop so that you shop carefully and happily because there are so many different skins, personal requirements, mesh bodies and attachments which we will not be responsible for.
WARNING!! Your responsibility as a client before contacting any of the below:
 Read the marketplace description before purchasing.  Make sure you know WHAT  you are purchasing and that you are familiar with its requirements or that you own the product you are using it for.
 Make sure you understand the policies of the product before risking the purchase.
 Make sure you tried a demo first and if you have any doubts that you contacted Sugarfairy2 inworld about the product BEFORE purchasing.
 We do not refund so ie it failure to pay attention or to care from your part as the customer will lead to you being ignored, or even if you harass it will lead to being reported and banned.
There are TWO teleporters right at the landing point where you land to use to get you to the various departments.  There are signs within the store.  This is a 3D virtual world enviroment and the store has been designed for shopping and scenary.  That is what this virtual world is for.  Do not under any circumstances, childishly bother my helpers or myself with technology LAZINESS. Do not make your pc capacity our problem.
TELEPORTERS WITHIN VARIOS SECTIONS OF THE STORE
SIGNS ON MANY OF THE STAIRCASES
How to use the floor teleporter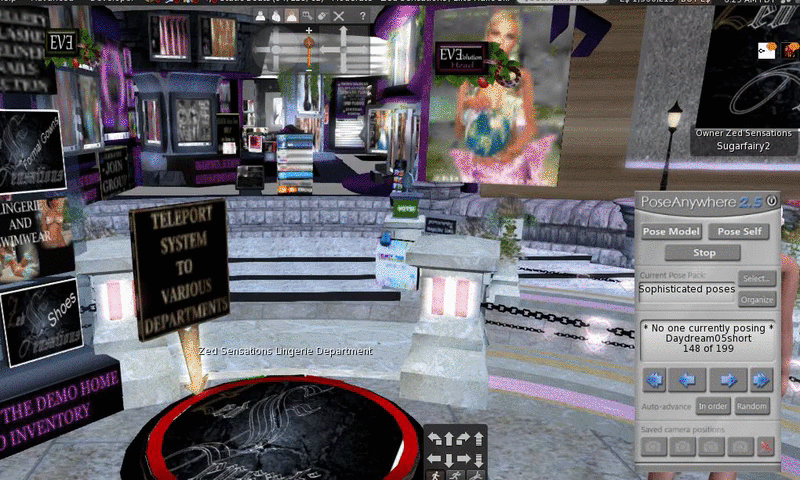 Please read our TOS,  and other pages that might be informative or of any help for you.