So sexy and naughty fitmesh outfit to have so much fun with.  Props and animations included.  Flour tattoo included.  After baking, dont be selfish and give your partner the flavor cupcake (animated) you made for them.
————————————————————————
Materials Enabled ( enhanced texturing once enabled will be noticed when you activate your advanced lighting and ambient occlusion in your Preferences in your viewer)
————————————————————————-
RLV friendly
————————————————————————-
Texture Hud allows for:
Texturing the apron and transparency control:
– Texture options
clean plain white apron
dirty plain white apron
clean "Let me Wet your appetite" apron
dirty "Let me Wet your appetite" apron
wet "Let me Wet your appetite" apron
– Panty Texture options (transparency control as well) (textures normal, crotchless fitmesh panties and the holding panty prop)
clean plain white panty
clean "Want a cookie?" panty
While mixing you can change the flavors of the cream in your bowl (vanilla, strawberry and chocolate)
Whilst cleaning the floor (using the animation pose hud – floorscrub)  you can changes the options as follows:  flour dirty on the floor, wiping the flour off the floor and then clearing, so that the floor is clean.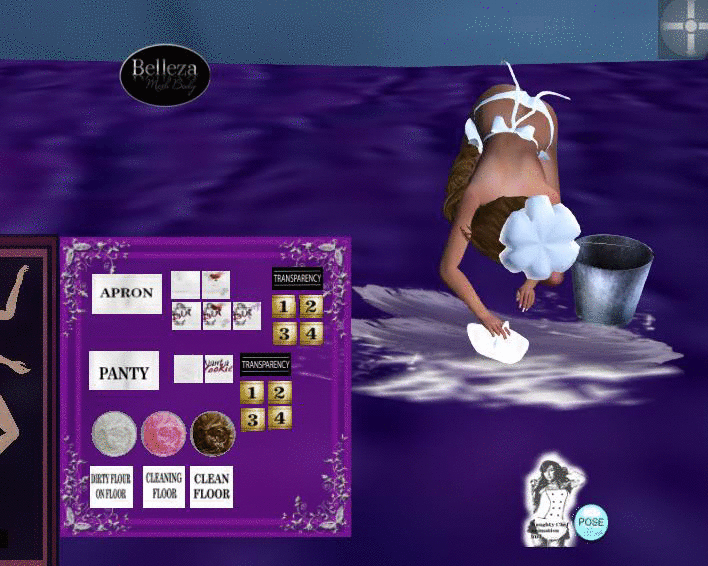 The Animation Pose hud
You have 3 chore animations (mixing, sweeping and cleaning the floor) + 8 static poses for photos.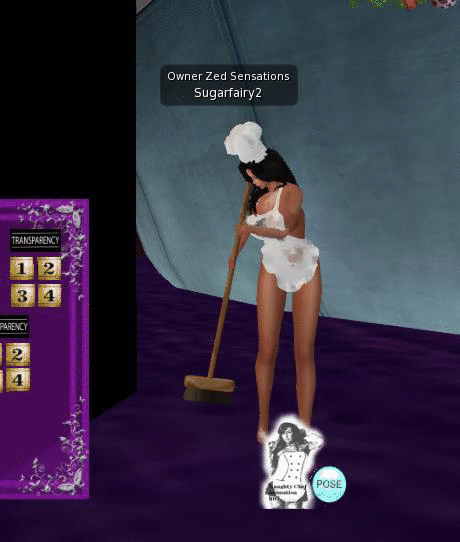 Included:
FITMESH
Apron Sl avatar
normal panty Sl avatar
crotchless panty Sl avatar
Apron Eve pulpy and slim
normal panty Eve pulpy and slim
crotchless panty Eve pulpy and slim
Apron Belleza Isis and freya ( remember to use body hud to change breast postions)
normal panty Belleza Isis and freya
crotchless panty Belleza Isis and freya
Apron Slink Physique and Hourglass
normal panty Slink Physique and Hourglass
crotchless panty Slink Physique and Hourglass
Apron Tonic curvy and fine
normal panty Tonic curvy and fine
crotchless panty Tonic curvy and fine
Apron Maitreya compatible only
normal panty Maitreya compatible only
crotchless panty Maitreya compatible only
Apron TMP compatible only
normal panty TMP compatible only
crotchless panty TMP compatible only
APPLIERS for the flour on skin tattoos:
Eve
Belleza
Omega
Maitreya
Slink
These are alpha based textures so remember to use your mask/blend function on your respective mesh body huds.
Props:
Falling panty to hold in hand
floor cleaning clothing
Rezzable floor cleaning prop (bucket and dirty floor)
3 animated cupcakes which are transfer (vanilla, chocolate and strawberry)
Broom (for sweeping animation)
Mixing bowl
Wire Wisk
Chef hat
Try the Demo inworld to make sure it meets your satisfaction before purchasing.