This is Amazing creation is Made by the wonderful and kind Ginger Chevalier.
In this picture I am using the Eve fitmesh nipples caps from the (brands by Zed Sensations), Romantic Instinct Lingerie set and the skin from EVE appliers for Elite Skins*. Serina Rich Caramel Skin for Eve (head and body)
Designed for an imaginative, creative and self aware mind.
The clothing, underwear and tattoo layers of the Eve mesh body are Materials Enabled so you can use materials enabled appliers.
Eve hands and feet come with the body and both are fitmesh.
Two mesh body versions in PULPY and SLIM.  Designed specifically for its own fitmesh brand clothing and alphas that can accomodate some of the other rigged mesh clothing available in the secondlife market.  It has its own applier system – Eve appliers
Make sure to get the Free Modify shape from the Eve store or a Free shape from Zed Sensations at the Eve only Section so that you can freely modify your mesh body shape more to your liking using the Edit appearance shape sliders.
This mesh body comes now in a FULL BOX version for 3000 lindens which comes complete with a starter clothing pack for what used to come individually, you now get ALL of them, which is absolutely fantastic considering what many mesh bodies offer when you buy them. You also get a Wardrobe Hud for saving your APPLIER clothing from Eve and Omega appliers. If you purchased one of the full packs before, just reissue a new redelivery from the Redelivery terminal.
What is included in the full-pack:
2 body mesh ( 1 Slim & 1 Pulpy )
Shoes for EVE
4 Model of dress mesh for EVE (Pulpy & Slim version) , Garter mesh for EVE (Pulpy & Slim version) , Underpants Mesh for EVE (Pulpy & Slim version) open.), Bra mesh for EVE (Pulpy & Slim version)  (boxed, you will need to rezz and open.)
1 Hud for customizing fashion
1 Hud for customizing EVE
Skin Applier ( model Vanda, Tanya, Vani or Olie) (in a box. You will need to rezz the box and open)
2 example shapes, but you can create your own shape by getting the free modifiable shape available at the Eve store and there is another at Zed Sensations.
EVE is Fitted mesh so the body is modifiable whit the slider appearance"(just the head is not totally modifiable)
You can wear easily Shoes, hair, jewelry, flex and other accessories
Wardrobe system for save your favorites applier
Replacer Hud (for send any layer to an other one – this comes in useful when you using the first version clothing appliers supplied by the creators with their clothing)
Fashion hud (applier clothing hud) for starting you on your adventure with Eve
You can also purchase the starter packs for either Slim or Pulpy for 1690 lindens
Questions concerning the Eve mesh body and its official products only, please join the Eve *New SL Avatar* Group
As an official Afiliate and creator for Adam and Eve, you can purchase this at
Optional but very important, you will need to purchase the Eve Adaptive Feet High and Mid which will enable you more shoe options by simply purchasing Slink shoes , and if you are wanting to fall pregnant the Eve Belly.
When you first purchase the mesh body you want to get your skin organised, so we will start with that first.  So get to your Eve body file in your inventory and open it and begin by
Wearing the Eve alpha
Wear the Eve-pulpy or the Eve-Slim body
Adjust your preferences in your viewer if you are seeing yourself white.  Adjust your preferences in your viewer if you are seeing yourself white.  To activate Basic Shaders and Hardware Skinning: Go to Avatar > Preferences > Graphics > General Tab > Look under "Shaders" and make sure "Basic shaders" is checked. Next look under "Avatar Rendering" and make sure "Hardware skinning" is checked.
Advise your friends to set their settings on their viewers to these minimum secondlife requirements, so that they do not have problems seeing you.  Low is not acceptable.
You must have the Official Second Life Viewer or the latest version of Third Party Viewers (ex. Firestorm). You also need to adjust your graphic settings to activate Basic Shaders and Hardware Skinning. (as shown above)
To update your Official Second Life Viewer: http://secondlife.com/support/downloads/To view the approved listed of Third Party Viewers: http://wiki.secondlife.com/wiki/Third_Party_Viewer_Directory
Optimal Settings
For optimal viewing of your EVE – Mesh Body we also recommend advanced graphic settings so you can view materials and experience the body in windlight.
Wear the Eve Hud and click on the SKIN TAB, so that you see this
Here we have the Skin applier preset with 6 skins and two breast cleavage options.  Select the skin you would like to wear.  I would like to clarify that the skins here are to be used with the Eveolution Head 
There are fitmesh nipples attachments for Eve pulpy and slim available in the marketplace and at Zed Sensations mainstore.  Popping Cherries Nipples
You can use your own secondlife head with the mesh body or the following Mesh heads:
Eveolution Mesh head (official Eve product)
Catwa mesh heads
Ga.Eg mesh heads
Laq mesh head
Logo mesh heads
Slink Visage mesh heads
So if you are using the standard secondlife avatar, you will need to do one of two things:
 Contact the creator of your skin or go to their store and purchase an Official Eve Skin Applier (you can inform your skin creator that the developers kit for Eve skin is for free at the Eve store) or Omega applier.  ATTENTION!!! I cannot stress enough to please use a skin that is the same brand from the same creator using the appropriate appliers for the best skin matching. You will also need to take time to do skin toning with the neck join (For omega appliers to work you will need to activate your mesh body with the so that your Eve mesh body can listen to the Omega appliers.   Omega Eve help installation
 Join the Omega Support Group for any other help or questions.
NOTE!! Although Adam and Eve are Omega friendly to open more skin, clothing and make up options to you as the client. Please remember the EVE and ADAM GROUP is not the Omega Support Group, and as we are full time busy trying to get our own products out and support to actual mesh body help questions, to please not waste our time concerning Omega products, especially other creators works. Go to the Creators you purchase from and ask for advise concerning their product which you paid for. If they do not help you, we definitely cannot as we did not make their product.
 Go to the Eve store and get the Free Eveolution Head or purchase the full BETA version for  825 lindens if you want to use the skins on the mesh body hud.  This you will need to activate with the Omega Eve kit as well.  If you use the head and body together you will not need the neck join which you can disactivate on the ALPHA TAB.
Neck Joint Help and How to use the RGB function with your Viewer
SHININESS AND SPECULAR
You really do not want to play with this if you do not know what you are doing.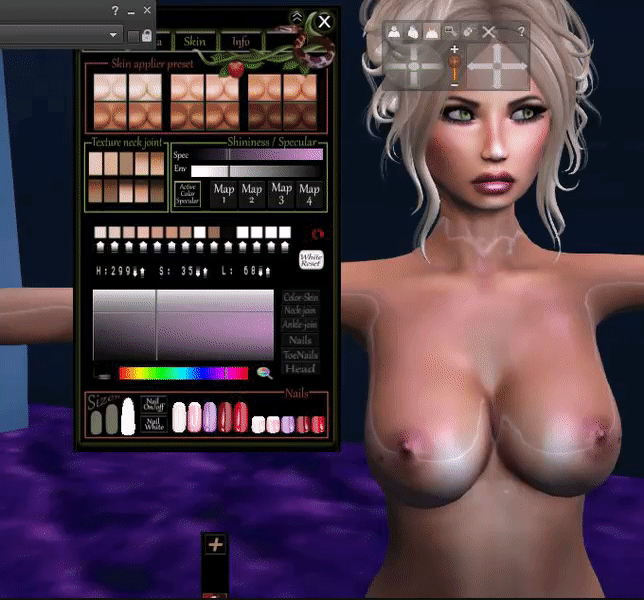 When you click the Active Color specular button you can change the colours of the specular map for more artistic effects.
There are 4 maps.  You need to go to your Preferences in your viewer and slide your graphics to high and above to control and see the effects of the Shininess/Specular values.  The black in the Specular is less shine and the white more.  You can copy my values of my Spec and Env as shown if you want less shine possible.
NAILS
Now this WE DO LOVE FOR SURE….. 3 nail sizes.  You have 5 basic Nail and Toenail shades, but that is NOT the end of the world LADIES!… Look at the side buttons next to the Colour palette.  Each button is so that it tell the hud what you want to colour individually without colouring the whole body altogether.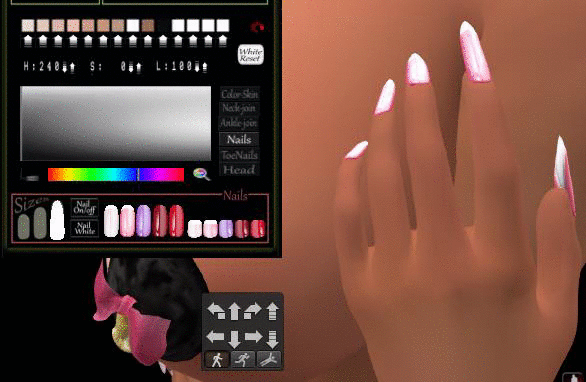 The small buttons on the top row are SAVE buttons.  Just click on the arrows underneath to save your favorite colours that you made.  So click the NAILS button to colour the Nails and the TOENAILS button to colour the toenails.  Imagine the unlimited colour options on the nails o.O
You can click the  Nail On/Off button to put the nails on and to take the nails off for the fingers.
There is a Nail white button to reset the colour of the nails.
COLOURING
To colour your skin or Head, you need to click the buttons that are named first then colour using the colour palette or clicking on your saved colours.  To clear any colour from the body, head, neckjoin, anklejoin, nails and toenails.  Click the named button then click WHITE RESET button.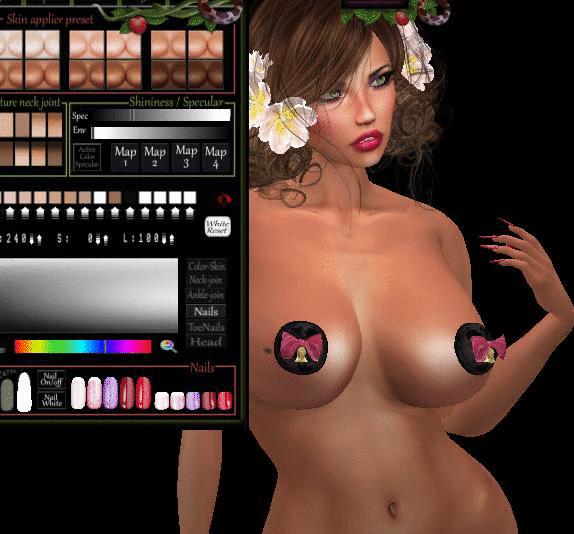 We now come to the next part of How to dress Fitmesh for Eve and the Standard Rigged mesh available in secondlife.  For Eve guaranteed clothing for fitmesh and appliers you need to make sure the Vendor pictures provide the following logos
or if you have Omega Eve Kit activated this Logo 
This is how you wear fitmesh for Eve, as many have asked about this dress, this dress is the product of fitmesh dress Eve Slim by Zed Sensations, Vanity FM Dress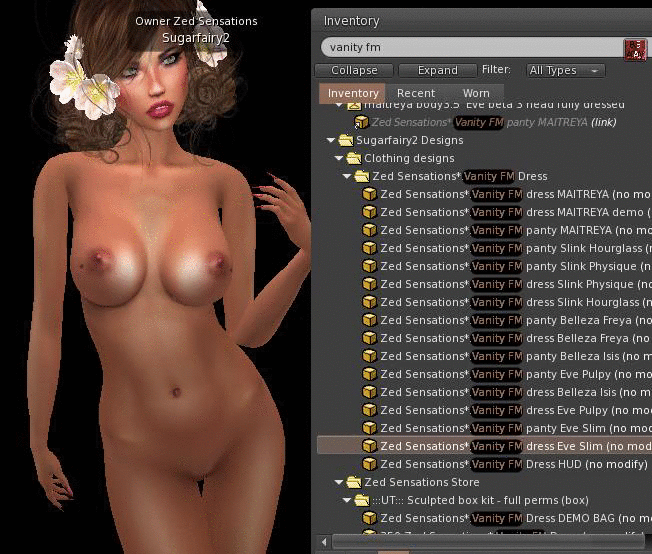 The alpha Hud is what you need for some eve fitmesh (depending on the design of the fitmesh) and Standard Rigged mesh.  You can wear physics but you cannot wear lolas under the fitmesh, as the fitmesh will not stretch over the lolas
Understanding the various meshes and why Demos are so important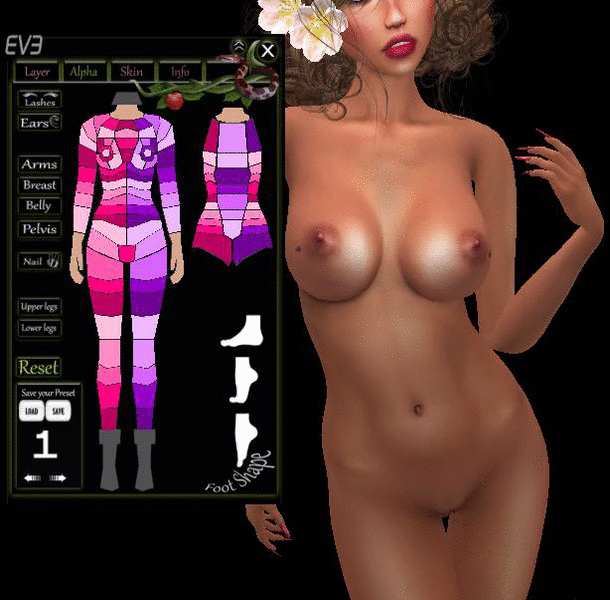 You save your alpha cuts for your clothing by removing the alphas for a particular favorite outfit of yours by Loading and Saving.
OOOOOOooo Now we see the foot shapes that come with the Eve mesh body already.  These feet ARE FITMESH so you can resize them.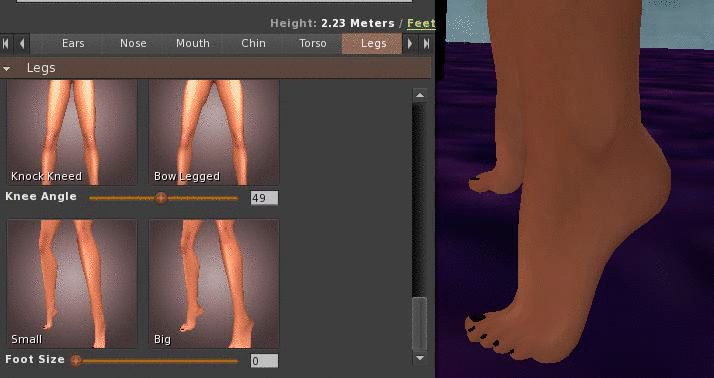 There are 3 feet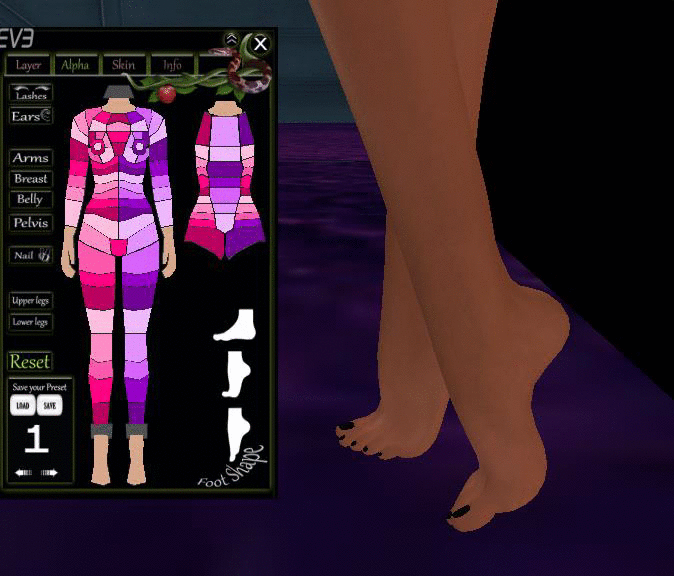 There are shoes available for Eve fitmesh feet but you can also use unrigged high heels which Creators adjust to size (come with a resizer script to size as close as possible to the size feet you have made your feet to be) and positioned to fit the Eve feet.
The EVE FLAT feet fit the Slink Flat sandals and shoes perfectly, some foot size adjustment might be required through the edit appearance tab.
It is highly advisable to purchase the Eve Adaptive feet High and Eve Adaptive feet, which are sold for 450 lindens each.  These are made to fit the Slink shoes for High and Mid.
All about the Adaptive feet and solve certain bugs that do occur.
SLINK FEET AND HAND USERS
Hide the Eve hands and Add the slink hands and in Edit Shape Appearance, in the Torso tab adjust your torso muscle like this

Feet and remember to have the ankle lock on.  On all accounts, if you dont want to lose the beautiful fullness of your thighs, it is advisable to rather use the Eve Adaptive feet High and Mid which fit slink shoes very well.

The LAYER Tab for Applier clothing.
The mesh mesh has 3  layers:
Fashion (clothing layer)
Lingerie (underwear layer)
Tattoo Layer
You need to make sure that the layers you intend on using are ON
You can wear lolas with Eve by hiding the Eve breasts and using the applier clothing.
You need to understand masking and blending and this is vital for many functions concerning
How to debug going white under water
How to delete applier clothing that wont come off, there are two huds available
and the Deshabillez Moi hud
The Eve Belly is simply to add the belly slim or pulpy, activate with omega Eve kit and it will work with both Eve and omega appliers.  There is Eve preggy fitmesh clothing at the Eve store.  The Normal Eve fitmesh will not fit over the Eve belly.  But it can give over this mermaid tail still looking awesome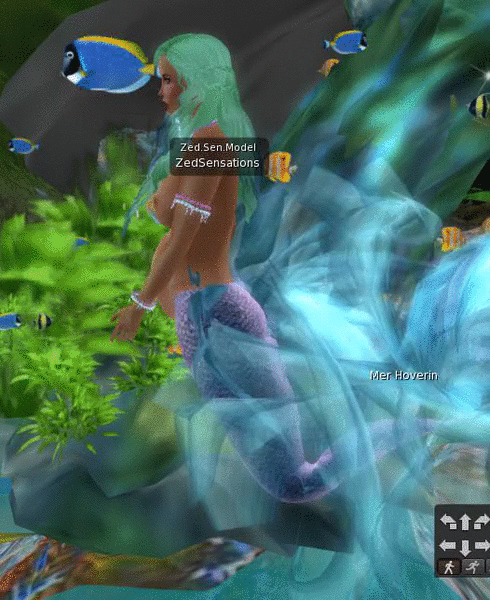 The Wardrobe
How to use the wardrobe function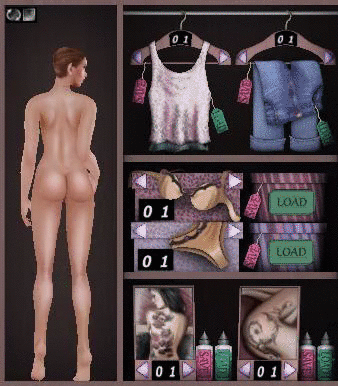 The Hud to save your applier clothing from Eve and Omega.
1. Wear your favorite applier
2. Select the layer on which you would like your clothing to be
3. For example if you choose the fashion layer, the on the Fashion (clothing layer) of the hud, click SAVE on the top and click SAVE on the pants.
4. Click Load when you want to load your item. It is saved in numerical order. So save 1 will be the first outfit you saved.
5. How to clear your  clothing saves on the Wardrobe
Wear the STRIPPABLE HUD for EVE and clear all your layers
 Then click the save button on each of the layers