Maitreya Mesh body
This mesh body is designed and created by Onyx LeShelle.  The head I am wearing is the Eveolution mesh head
In this picture I am wearing the skin (product of Zed Sensations) Elite Skins*.Angelica Caramela for Maitreya and Elite Skins*.Angelica Caramela skin for Eve
My Association with Maitreya Lara and real concerns
Present situation with Maitreya.  Update 05/08/2016 – I have now officially signed the contract with Maitreya under the supervision of Gryphon Ronas and received the meshing clothing kit.  So from today I will be slowly updating (as I am a solo designer and not a task force) and releasing my products with the new official fitmesh for maitreya users.
Previous situation with Maitreya. I officially design for Maitreya Lara in appliers for skin, clothing, nails and shoes only. For the Fitmesh kit I have been waiting since 27 September 2015 to get the kit to incorporate better quality for you. I have applied twice and on several occasions have tried communicating with Onyx LeShelle with the best intentions and it has resulted negatively, and politely have been told to continue to wait.  All communication logs are saved and kept with me as legal proof that I have no ill intentions towards Maitreya products but simply trying to meet the needs of my clients.  The decision of the Mesh Body Creator, Onyx LeShelle, should be respected as it is her final decision who she wants representing her, but also respect my business decision if I do not make some fitmesh clothing for Maitreya, as I do not want to risk the name of my company for producing bad quality to my clients nor hurt the Maitreya label.
The fitmesh clothing items that are unofficial that I have provided has been due to some Maitreya clients requests which they have found to be acceptable, but on all accounts I do highly recommend that you try Demos before purchasing.  Some clients have found it even ok to wear my Belleza Isis fitmesh and even my Slink Physique fitmesh ( I guess it depends on the shape you are using, I have never really tried it but this is client heresay, which has been rather interesting as they tell me how they managed to get into my products. My demos are inworld only.
Informative information about the Maitreya Mesh body
Maitreya Lara is a basic mesh body and does have a lovely feminine shape.
The cost is 2750 lindens, available inworld at the Maitreya store, for 1 mesh body only and a bra and panty as an inclusive offer.  Since this mesh body is pretty basic, it also is easier on many of the much older pcs and much weaker graphic card users.  Technology keeps advancing so its much better to make a bigger attempt on keeping your pcs and graphic cards updated.  You can only hold out for so long.
I will begin going through this mesh body so you can see what it has step by step through its hud, and also explaining the difference of my unofficial fitmesh when worn by maitreya.
Maitreya is Materials enabled in skin, clothing, underwear and tattoo layers.
Maitreya is Omega friendly.
Maitreya feet are not fitmesh. There are creators who make shoes for Maitreya feet.
The Maitreya mesh body hud is pretty easy and basic (new avatar friendly)  brings 3 feet positions (which you click to change) as you can see here and which is found on the skins and options tab of the hud.
You can detach the maitreya feet and add slink feet so that you are able to wear slink shoes that are sold in secondlife.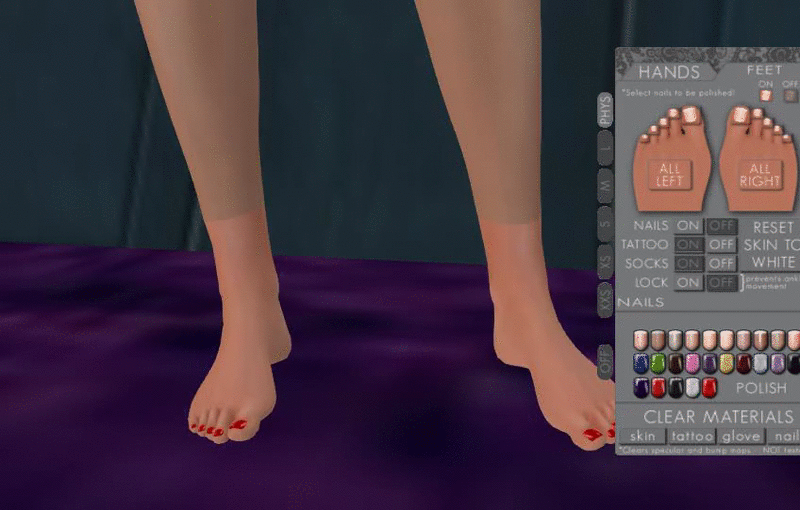 You need to remember to use the Slink utilities hud and make sure the lock (this locks the ankles) is on.  This still does not remove the small line break that occurs when moving.
Maitreya hands are fitmesh.  Maitreya hands can be detached and you can use the many hands of slink.  They do match beautifully, but i have not textured the hands to match so that you can distinctly see the compatibility
The mesh body itself is fitmesh so you can reshape yourself in Edit appearance , then edit shape.  Do remember that you will require a modify shape to be able to reshape yourself.
There are several heads compatible with Maitreya:
Catwa mesh head
Lelutka mesh head
Logo mesh Head
Ga.eg Head
Laq Head
Adding skin and colouring to your mesh body
You have your skin presets at the top.  You can colour your skin using the colour palette that you see available in a big block with a rainbow of colours.
You have 3 nail lengths and a preselected amount of nail colours.  The only unique feature of this depends on the nail creator themselves who if they want can make huds to colour each nail individually, but this is obviously ONLY for the maitreya nails and toenails.
There is the shimmer which is the specular tab which you slide up and down to control shine.
There is the neck fix which you can put on and off and has 5 sizes
Continue reading MAITREYA MESH BODY →